This post may contain affiliate links. Please read my disclosure here.
Do you find your kids moping around the house because they're bored? Maybe you're fresh out of new ideas? Looking for a new avenue of learning and discovery? It may be time to switch things up and look into some of the best monthly subscription boxes for kids!
What is a monthly subscription box?
I'm glad you asked! A subscription box is a package that is delivered right to your door full of items based on a specific theme. In our case here, the theme would be related to kids.
Many of the themes change up each month to match the materials and activities provided.
How does a monthly subscription box work?
The boxes are delivered a specific number of times throughout the year, with a monthly box delivery being a popular choice. It's usually a pretty straightforward process. You choose a type of box you (or your kids) are interested in and voila, it shows up on your porch once a month.
The materials needed to complete the craft or activity are all included. Step-by-step written or picture instructions may also be part of the package, when they are needed. Open the box and let the fun begin. Sweet deal!
These boxes could be a fun thing to get for your own kids or to give as a gift to someone else. It is a common gift for grandparents, aunts or uncles to share with kids in their life (especially when they live far away!).
Which age group(s) do these work for?
There's a subscription box out there for every age group! You can choose from a whole variety of boxes depending on the ages and interests of your kids.
Some subscriptions come with a pack for 2 (or more) to complete the activities. This could be a fun option for kiddos who like doing things together. Or for the ones who get along better when they have the same things, there are times that having different things results in chaos! 😉
There are box themes ranging from craft kits for kids to making your own pet treats. There is bound to be something everyone would learn from and enjoy!
Why get a subscription box?
It takes all of the hassle out of coming up with new activities for your kids. It can be exhausting to always be the "go-to" with ideas of what to do when "boredom" hits! These boxes add variety, each month will be a surprise! (Bonus: It's a surprise YOU don't have to come up with! Win win!)
There are often multiple activities included in the box, some have up to 6! The boxes include all of the materials needed to complete the activity, which is a huge time saver- don't worry about rounding up any materials. It's a one and done deal, the box arrives and you can let the good times roll! Instructions are included (when needed).
Join your kids in their creations and learning! Maybe not every time, but some things are best enjoyed together:) It could be a great opportunity to spend time together and see the creative wheels spin. You may even surprise yourself and let your own inner creativity shine!
I'm in! Now what?
You've made it through the tough part of choosing to jump in and let your kids try a new level of fun! Now the hardest part is deciding which box would be the best for YOUR kid(s).
I know, not another decision! Well, I was hoping to simplify the process a bit for you. I've rounded up some of the best subscription boxes to choose from.
We Craft Box

We Craft Box – $29.99
from:
Cratejoy
What is the theme? It depends on the month:) The theme changes each month and includes a new story to go along with it.
Who is it for? 3-9 year olds
What's in the box? All of the materials needed to make 3+ crafts with picture directions. You may need to have scissors on hand, but other than that you are covered!
Koala Crate
What is the theme? Creative activities for young innovators.
Who is it for? 2-4 year olds
What's in the box? Materials for 2-3 creative activities, activity parent guide, a magazine with stories and games, and online DIY ideas.
Little Dreamers Club

Little Dreamers Club – $34.99
from:
Cratejoy
What is the theme? It's a surprise, but it does change every month!
Who is it for? 3-5 year olds and 6-8 year olds
What's in the box? 6-8 themed craft projects with all needed materials, a fun book, a badge, and extra projects you can make with things around the house.
Think Outside Boxes

Think Outside Boxes – $39.95
from:
Cratejoy
What is the theme? Outdoor gear with related activities and skills
Who is it for? 7 year olds-mid-teens
What's in the box? 2-5 outdoor gear items and a 20+ page education and activity booklet with resources to master outdoor skills. The first box comes with a backpack.
Owl Post Books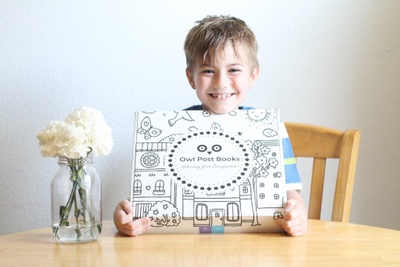 Owl Post Books – $32.99
from:
Cratejoy
What is the theme? Reading
Who is it for? Children ages 0-3, 4-7, and 8-11
What's in the box? Imagination Box: 3 new age-appropriate books, themed toy, a box that doubles as a coloring sheet, and a theme card. See other related box options here.

Terra Create – $34.00
from:
Cratejoy
What is the theme? Crafting handmade gifts and keepsakes
Who is it for? tweens, teens and adults
What's in the box? Step-by-step picture instructions, a quick lesson about the cultural history of each type of art form, and the materials needed.
There you have it!
Did you find what you were looking for? I sure hope so! If not, feel free to explore other options through any of the links.
My hope is that you will have fewer headaches and happy kids with whichever subscription box you choose. These are designed with kids AND parents in mind. Crafting and creating can be so fun! It sure helps to have all of the guess work taken out and materials provided.
For more ideas on things to do with your kids at home, try these activities.